Quotes

"The GOP shut down government because they wanted to negotiate,
something they failed to mention the 21 times they rejected negotiations."

-- LOLGOP in a tweet
Send e-mail to Bart
---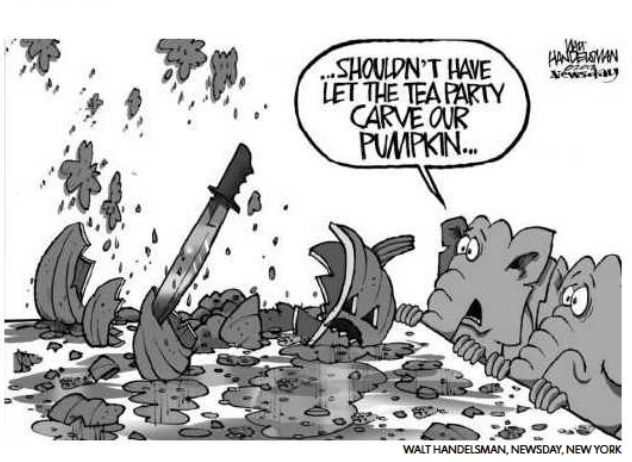 ---
Citigroup Gains if We Default?
Is that who's backing the Teabaggers?
Link
Who are the reprobates that are cheering for the possibility of a technical default on the U.S.?
Who stands to gain? Who might be happy to set off this financial bomb?
Some people will play with sovereign debt just to put a few more dollars in their own pockets.
On August 2, 2004, when it was the world's largest financial services group, Citigroup sold €11 billion
of eurozone government bonds in less than two minutes and 30 minutes later bought back €4 billion at
lower prices to pocket a profit of €17 million ($23 million).
Today, Citigroup's 2004 manipulation of European sovereign debt seems quaint. In subsequent years
Congressional testimony revealed massive fraud, suppression of bad loan data, violation of internal
guidelines, persecution of whistleblowers, and reckless mismanagement at the very top levels of the bank.
Citigroup received $476.2 billion in cash and guarantees from U.S. taxpayers. Citigroup was the top
recipient of U.S. aid. Bank of America was second with $336.1 billion an enormous figure that was
still $140 billion behind Citigroup.
To be clear I'm not saying that Citigroup is in any way interested in shenanigans in the U.S. debt market
or credit derivatives markets, I'm only reminding you that our financial system is prone to outrageous
behavior and control fraud. Regulators, Congress, and the past and current presidential administrations
have let criminals skate with little more than a wrist slap.
But don't worry.

Next time these gangsters get caught stealing billions from us,
Obama will make then pay a $5M fine and promise not to do it again.
Send e-mail to Bart
---
---
Making the Economy Scream
by Robert Parry
Link
Americans who have studied CIA destabilization campaigns around the world may see some
striking parallels to the strategy of Tea Party Republicans who have provoked a government
shutdown and now are threatening a credit default. The idea is to make the country appear
ungovernable and to make the economy "scream."
This approach is similar to what CIA operatives do to get rid of disfavored political leaders in
other countries, such as when Nixon ordered the spy agency to sabotage Chile's economy and
upset its political stability in the early 1970s.
The CIA's thinking is that most people just want a chance to make a living. So, if an economic
crisis can be ginned up – while propaganda outlets put the blame on the government leaders
who are ostensibly in charge – then the people will ultimately turn against those leaders in
an effort to restore normality.
In effect, the CIA takes the political process hostage by inflicting economic pain on the average
citizen, sponsoring "populist" disorders, spreading confusion through propaganda outlets and then
waiting for a weary population to give in. This technique has worked in many countries over the
years – and surely the idea long predated the formation of the CIA in the late 1940s.

But that seems to be not working, right?
Voters blame the Republicans - they're going to pay next November and in November 2016.

The only thing that could stop that is if they knocked off the hate - what are the odds?

o Bart
---
Pure Costumes Halloween Store
Just in time for Halloween
---
Subject: Obamacare website
>on Tuesday people were locked out until 10 a.m.,
If this is the worst they can say about Obamacare – we couldn't sign up
until after breakfast – I don't think we have much to worry about.
Dennis in DC
They say you can sign up in December and get all the same benefits.
Everyone wants to sign up for Obamacare as soon as possible, which
causes the system to crash, which gives America's whore media the
opportunity to say that's "proof" that Obamacare is bad.

Send e-mail to Bart
---
We worry about al-Qaeda, we worry about nukes and Sarin and WMDs.
Those are important, but what about the BIG stuff?
Did you see that recent story that some streets in Miami are ocean-flooded at certain times?
The oceans are rising because the poles are melting as the planet cooks like a Thanksgiving turkey.
Republicans like Jim Inhofe say,
"We don't believe your facts"
and the Democrats
stop trying to convince them and Earth just keeps getting hotter and hotter.
Send e-mail to Bart
Subject: Is America committing suicide?
America is a government gone mad.
With shutdowns, sequesters, NSA Spying, and debt ceilings we are like a madman
holding a gun to our own head threatening to blow our brains out if we don't get
what we want, and we don't even know what we want.
We used to be a great nation but no one remembers that anymore.
Now we're the laughing stock of the world. Where is the outrage?
Is there no voice of sanity willing to speak up?
Marc Perkel
Even if they're scared of getting primaried, what about retired Republicans?
Why can't they come forward, as a groupo, and say,

"Stop this insanity?"



How many elections will they lose before they see the light?

Send e-mail to Bart
Shop Online
Amazon.com sells everything

If you would, find your purchase
then come back here and use this link
and they'll throw the Treehouse some pennies...

Amazon business has been slower than usual.
I hope things pick up between now and Christmas
because Amazon has become my financial lifeline.

Extra thanks to those of you who
use the Bartcop.com Amazon Portal.
Since last issue, someone purchased from
an
Optoma HD (720p), Home Theater Projector

for
$484
so Amazon donated
$19
to the Treehouse!
Thanks for using
this link
Buy online
Free Shipping

Look for 'bartcop' in the link when you place the order.
Add the Amazon link
to your Favorites Bar


---
Rep Lee Polls Drop Back Home
Cruz's Pal in trouble in Teabagger Utah
Link
The senator who spearheaded the "I Hate Health Care" campaign has seen his popularity sink at home.
A little more than half of Utahns — 51 percent — have an unfavorable opinion of Sen. Mike Lee (R-UT).
Only 40 percent said they have a favorable opinion of Lee, down from 50 percent in June.

Utah Republicans have even cooled on Lee. In June, 71 percent liked him, that's now down to 57 percent.
Lee was dismissive of the poll numbers.

Well
of course
he was.
What else can he say?
"I screwed up and I wish I hadn't?"
Send e-mail to Bart
---
Subject: Nothing changes
Republican leaders come out from a meeting with the President and a reporter ask.
"Any change?".
They reply,
"Nope, he's still black!"
JayNLex
Send e-mail to Bart
---