Note: The left and right of this illustration may not line up exactly in your specific browser.
You'll still get the idea.
At the top of the issue below the header is the date, volume number and volume title.
When this and the image and headlines change a new issue has arrived.
Hint - to get a specific issue of BartCop type in "
www.bartcop.com/issue-number.htm
"
or in the case of this example "
www.bartcop.com/1697.htm
".
These are headlines of just some of the articles you'll find in that issue. Right now these don't
link down to the specific article so if it sounds interesting
scrolling
again comes into play.

Here is an article. This one was also in the headlines and had a "HOT" image next to it so BartCop considers it, well HOT. The headline is in bold red and the "Link" will take you to the specific article. Note that most article clicks do not launch a new browser window so you will need to learn to use your "Back" button in your browser and/or right-click a new window with the article. The Excerpt: will give you a highlight of the article or commentary.

Almost every item or article has a "Comments?" link. This will launch your email program and allow you to comment and send it to the BartCop.com feedback folder. Include an email title about what it is your are commenting on.

Some say BartCop.com has one of the best selections of political toons out there.
Some readers may just scroll through an issue to see the toons (and come back later,
of course, for an indepth reading.


In addition to the "Quote of the Day" at the top left of each issue
additional quotes are included in every issue.

This is an example of a typical complete article item. The headline (red) or the
Excerpt might include its own BartCop commentary - read between the lines
and make sure you quote from the original article if that is what you are trying to do.
The black type like this = Bart's own comments about
whatever is being discussed by the article.


BartCop gets LOTS of emails and prints some of the better ones. This is an example one one with the sender's type in blue and Bart's comments in black.

Sometimes an issue is so hot it generates dozens of emails.
In those cases an extra page dedicated to all points of view might be needed.
In addition to scrolling, clicking skills are also required for those :)



You can donate and get some cool stickers.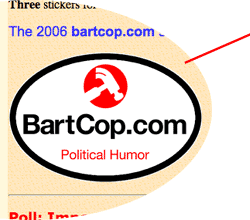 The Tequila Tree House isn't all politics. BartCop.com covers topics as diverse as music
TV, movies, technology, UFOs, conspiracy theories and of course fine tequila.

You can advertise on BartCop.com. Dozens will see your ad. Click to find out more.

If you've scrolled this far you've seen there are lots of toons and articles in every issue.
Keep scrolling, the bottom of the issue is closer.

BartCop.com has lots of toons. Some of the toons you won't see anywhere else.

Like it said above- BartCop.com is not all politics.


BartCop.com Subscribers can access the latest BartCop Radio show from these links.
Check it out and become a subscriber to BartCop.com.
Last but certainly not least is a picture of Shirley Manson.
When you see Shirley, you are at the end of the issue.