Subject: let's fight about Clinton
Bart,
Clinton, Rubin, Greenspan, Summers etc.gave us Gramm Leach Blilley which
repealed Glass Steagall which destroyed meaningful regulation on Wall Street which
was in effect since The Great Depression
I don't know about that, but let's say it's all true.
You have a list of Clinton complaints, but I say he was our best president since FDR.
You have, in your mind, some mythical "perfect" president who did everything your way.
But there ar no perfect presidents - there are the ones you don't like and there are
the blood-thirsty murderer/torturers who rape countries for fun.
Clinton continued sanctions on Iraq which murdered over 500,000 people.
That might be true, and I could understand if Clinton had to do that for political reasons.
If he dropped the sanctions and allowed Saddam to sell all the oil he wanted,
Saddam might've soon become the threat the Bush bastards claimed he was.
Then Clinton would've been the biggest foreign policy bungler ever and
the Democrats would lose the White House for the next 12-20 years.
Iraqi civilians have the same bad luck as Haitians, Iranians, Saudi's, North Koreans, etc.
If you're born in Hell, there's not a lot outside nations can do for you.
He murdered the Branch Davidian members in cold blood,
Now you're just being crazy.
The Republicans led by Sen. John Danforth investigated Clinton and they concluded that
Koresh started his own fire and that Clinton and Reno were powerless to stop him.
When your political enemies insist you're innocent, you just might be.
If you can so totally misrepresent the facts at Waco, that tells me you're not to be believed
when you make claims about Glass Steagall or the number of sanctioned-to-death Iraqis.
Once you get caught telling one fib, your whole rant begins to smell funny.

He had sex with Monica which got him impeached and which so weakened him he
couldn't or wouldn't campaign full bore for Gore and the rest is sickening history.
Were you paying attention in 2000?
Clinton offered to help Gore, but Gore turned him away saying,
"America loves Joe Lieberman so much, we won't need your help, Vulcan."
Your ability to mis-remember facts is truly startling.
These are all facts Bart and I would have taken less of an internet bubble which aided Clinton
and more push back against the Right wing crazies which set the stage for W. Obama gutlessly pulled
his choice for the head of TSA. last week.
I'm angry with Obama for constantly backing down, too.
but why is Clinton catching your ire for something Obama did last week?
Clinton gutlessly pulled Kimba Wood when the crazies squealed.
I forget which one she was, but yes, Clinton had to pull THREE nominees because
the Rethugs changed thr rules when Clinton hit town. (That's how he ended up with Reno)
Nobody ever asked the Bush or Reagan cabinet members if they paid Social Security taxes
on their pool boy and the guy who mows their lawn. That degree of accountability started the day
Clinton hit Washington and he couldn't say, "It's not important to pay your taxes" so they had to go.
Bush never pulled a nominee when the Dems complained.
That's the difference between the Dems and the Repugs.
You're exactly right about that.
The Rethugs stick together and would NEVER cross their president.
Meanwhile, Democrats can't wait to stick that knife in a Democratic president's back.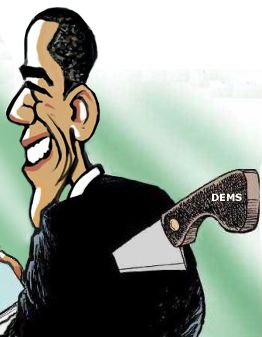 They're nuts but never quit and the Dems quit at the drop of an objection.
Jacob

Jacob, you were a little pitchy there on the middle but you closed strong.
If Democrats would get behind this president we could solve half our damn problems.
But weasels like Kissyface and Nelson and Blanche Lincoln and Mary Landrieu take delight
at barking at our president, and he's often inclined to meet the demands of his enemies.
That's how we went from owning everything to losing Teddy's seat in one year.

Send e-mail to Bart | Discuss it on The BartCop Forum | Comment on it at the BartBlog