Quotes
"Bush, speaking after a meeting with the Vietnamese Prime Minister,
announced he will visit Vietnam in 2006."
--Hoffmania, "Obviously, It'll Be His First Time There", Attribution

---
Five Pointers for a Left Media
by Robert Parry at consortiumnews.com
Excerpt:
1. Outlets and content are the keys
2. Beware an emphasis on "media reform"
3. Put media where it makes the most sense
4. Concentrate on information over opinion
5. Don't view the Internet as a panacea


Note: consortiumnews.com is the most important site on the internet
---
---
How Cheney Fooled Himself
Isn't Cheney supposed to be the smart one?
Excerpt:
The notion that the president led the country into war through indirection or dishonesty
is not the most damaging criticism of the administration. The worst possibility is that the
president and his advisers believed their own propaganda. They did not prepare the
American people for an arduous struggle because they honestly didn't expect one.
How else to explain the fact that the president and his lieutenants consistently played
down the costs of the endeavor, the number of troops required, the difficulties of
overcoming tensions among the Sunnis, the Shiites and the Kurds? Were they lying?
The more logical explanation is that they didn't know what they were talking about."

Personally, I would rather our overlords be crooks than idiots.
At least the crooks would have the brains to do their jobs while robbing the Treasury.
Is it possible we have the worst of both worlds?
Crooks with no brains running the country?

---
Subject: Administration Exploits The Iraq War
Bart,
My local paper, the arch Conservative Richmond Times-Dispatch, printed my letter
to the editor on today's (6/21/05) editorial page. They supplied the heading.
Thought you'd appreciate it. Just doin' my part.
Keep swingin',
Dodd
Scroll down two clicks to Administration Exploits The Iraq War
---
---
Quotes
"Graveyards in this town (DC) are littered with the bodies
of those who have under-estimated George W. Bush."
--Alan Lichtman, Attribution

Horseshit!
It's impossible to under-estimate George W. Bush.
Nobody in history has ever been as stupid or as worthless.
Show me someone who ran a decent, half-ass campaign against him and lost!
Kerry laid down, Gore laid down and I didn't follow Ma Richard's Texas campaign.
I know Bush screamed "Lesbian!" at her 1,000 times - did she every try to fight back?
Or did she stupidly count on the Texas Klansmen to see thru Bush's hate-filled campaign?
When people see Bush coming, they tremble and fall apart, like boxers did with Tyson
in his prime. But all it took was 42-1 underdog Buster Douglas to show how easy it is
to destroy the "champ."
All you gotta do is throw a punch and he falls.
It's so damn easy, but nobody ever tried it with Bush - not ever...

---
Subject: Hillary's health care plan
Hi Bart,

Here is a link for the executive summary of the Clinton Health Care plan
(it also has some other goodies for exploration):

http://www.ibiblio.org/nhs/NHS-T-o-C.html

A very simple summary of the plans reception can be read at
http://en.wikipedia.org/wiki/Clinton_health_care_plan

Keep swinging the hammer,
The Farmer

---
---
dailykos.com did a poll
Who should be our nominee in 2008?
Evan Bayh 339 votes - 2 %
Joe Biden 513 votes - 3 %
Wesley Clark 3573 votes - 26 %
Hillary Clinton 1489 votes - 10 %
John Edwards 1118 votes - 8 %
Russ Feingold 1468 votes - 10 %
John Kerry 349 votes - 2 %
Bill Richardson 675 votes - 4 %
Mark Warner 705 votes - 5 %
Tom Vilsack 93 votes - 0 %
Other 1036 votes - 7 %
No Frickin' Clue 2367 votes - 17 %

I'm surprised Biden got any votes.
I'm surprised Kerry & Edwards got as many as they did.
I'm not surprised Clark is leading the pack.
Looks like non-Kos Dems like Hillary better than Kos-Dems.
"No Clue" and "Other" got 24 % - that's probably not good news.
---
Subject: updated Lynching Hall of Shame
Hey Bart,
Here's an update on the Congressional lynch mob:
The senate resolution that apologizes for sitting on their asses on the
lynching issue is now up to 89 sponsors and cosponsors, leaving 11 hold-outs.
If my accounting is correct, the remaining Lynch Mob Eleven are:
Lamar Alexander (R-TN) where hundreds (or more) lynchings took place
Robert Bennett (R-UT)
Saxby Chambliss (R-GA) where hundreds (or more) lynchings took place
Thad Cochran (R-MS) where hundreds (or more) lynchings took place
John Cornyn (R-TX) where hundreds (or more) lynchings took place
Michael Enzi (R-WY)
Judd Gregg (R-NH)
Trent Lott (R-MS) where hundreds (or more) lynchings took place
Richard Shelby (R-AL) where hundreds (or more) lynchings took place
John Sununu (R-NH)
Craig Thomas (R-WY)
Once again, Republicans are leading the way ...toward the 16th century.
All the best,
Jenny
..

Vote Republican?
Next time the GOP makes the claim that they're not racist pig bastards,
we'll remind them of this...because the Democrats are afraid to remind them.

---
Trust me, when you get there,
click "YES"
---
Halliburton bribes: Most corruption in DC
Cheney ran a totally corrupt company? Who knew?
Excerpt:
Investigators say some of the bribe money was found in the bank account of KBR
chief Albert Jack Stanley, who was later fired by Halliburton on grounds that he
accepted "improper personal benefits" related to the Nigeria contract.
Last year, Halliburton's lawyer James Doty found incriminating company documents
which, he says, show "people may at the time have been planning or contemplating
the necessity of money for the purpose of making bribes."


---
Fanning the flames of impeachment
by Bev Conover at onlinejournal.com
Click Here

Excerpt:
"...neither the flames nor the smoke in the reality-based community have yet gotten through to
Bushworld, where reality is whatever he and his necons says it is. Bush's delusional thinking
allows him to believe that the Planning Scenarios dreamt up by the Homeland Security Council,
coupled with making permanent, and adding to, the dreadful PATRIOT Act, will provide him with
all the tools and protections he needs against dissidents (terrorists in his parlance) foreign and domestic."


---
---
Enron: Why Bush Took Us to War
Kennyboy's greed multiplied by Bush's greed = war
Excerpt:
The top story of first eight months of 2002 was one that made the Bush team nervous.
Corporate corruption, especially the Enron scandal, had the full attention of the media and
the public. Polls showed that the public was outraged over Enron's excesses, and Enron had
close ties to the Republican Party, all the way up to the President himself. If this story stayed
on the front burner, the Republicans might fail to take back the Senate and might even lose
control of the House in the November congressionals. Bush and his political adviser Karl Rove
knew had to change the subject. And nothing changes the subject like announcing the imminent
and unprovoked invasion of another country."
---
Subject: Feinstein = sellout
Bart,
Today the House is voting for the umpteenth time for the smoke-screen handjob
that is the "flag burning amendment." First is the fact that the "legislature" has time to
debate and vote on this meaningless and ridiculous amendment in the face of all the
other problems and injustices we face.
Then note that we have congress pushing for yet another amendment that takes AWAY
rights rather than protecting them (like the horseshit "marriage" amendment - par for the
course under of the religio-corporatist neo-CONs.) Top it all off with the fact that because
of sell-out wealthy political fakes like Senator Diane Feinstein who will vote FOR an
amendment that bans flag-burning (along with 4 other Dems!), this thing actually has a
chance of passing this time.
Its time for Californians to stop advertising that we should all come out there and spend
our money and have some "fun" in superficial land. Instead how about reclaiming their
long standing reputation as a trend-setting, liberal center of new ideas and justice.
Start by throwing out Feinstein and Arnold out on their hypocritical asses and get
someone in there who actually looks out for the good of the citizenry.
JC
PS - Some links - the first two are her own sorry justifications for why she will vote for
a flag burning amendment. Proof again that a rich, seat-warming, sell-out politician can
rationalize anything in this day and age.
http://feinstein.senate.gov/05speeches/s-flagday0614.htm
http://www.esquilax.com/flag/chal4.html
http://www.esquilax.com/flag/index2.html - The flag burning page
http://www.zpub.com/un/un-df.html - Di-Fi watch

---
---
Bush's Road Gets Rougher
Excerpt:
'The political capital he thought he had has dwindled to very little, and he overstated
how much he had to begin with,' said Al Lichtman, a historian at American University in DC.
"Congress is like Wall Street - it operates on fear and greed," Mr. Lichtman said.
'The Democrats don't fear him anymore, and they're getting greedy, because they think
they can beat him. The attitude you see among Republicans in Congress is, my lifeboat first.'"


The country is waking up to the fact that they've been lied to.
Things could get very lonely for the Murder Monkey as his troops jump ship.

I'd sure like for Bush to take the mother of all beatings for the next 3.5 years.
In my lifetime, nobody has deserved it more than "Mr. The-World-Owes-Me-Everything."

---
America wises up
A CNN/USA Today/Gallup poll shows 59% oppose Bush's Bloody Quagmire Attribution
But the Democrats STILL refuse to call it that.

A Field poll shows Gov. Musclehead job approval at 31% among adults. Attribution
California thought it would be fun to sleep with a movie star.
They woke up the next morning next to a monster.

---
---
Quotes
"I thought Durbin was totally out of line. I watched some of his comments
on the floor of the Senate. For him to make those comparisons was one of
the more egregious things I'd ever heard uttered on the floor of the Senate."
--Dick Cheney, hoping you forget he told Leahy to "Go fuck yourself" on that same floor Attribution

As always, the Democrats totally mismanaged this "bruhaha."
Durbin said, in effect, "Torturing suspects make us no better than the Nazis."
If Cheney wants to take that as an insult, it means he's confessing to the torture.
Why can't the Democrats ever get it right?
And when are they going to call me?
918-748-1714
---
..
..
..
..
---
Subject: Frank Zappa showed them
In the late 80s, they had Frank Zappa on Crossfire.
They tried to hang society's ills on Frank.
Frank refused to play their stupid games.
Click Here and watch a good example of how to debate a Monkey. (it's in the first 90 seconds)

I miss Frank.
He'd have a lot to say able the gelding Democrats and their acceptance of GOP domination..
---
---
Quotes
"Tom Friedman, columnist for The New York Times, recently wrote that "liberals"
no longer want to talk about the war because we were against it to start with and
probably hope it ends in disaster. Does this man actually think we are out here
cheering every time another American is killed? Mr. Friedman, real, actual liberals
are out here in the heartland, and we know the kids who are dying in Iraq. They are
from our hometowns. We know their parents. That's why we hate this war. That's why
we tried to tell everybody else it was a ghastly idea. We are not gloating because it is
the horrible mess we said it would be. We're in agony."
--Molly Ivins, "Dismissing Downing Street", Attribution

---
---
Marty's Entertainment Page
Marty was on Erin Hart Sunday, the 19th.
Anybody get a copy of that?

---
Dueling Quotes
"We are going to be much tougher and in your face with the Republicans
when they say things that aren't true. We can't win if we don't fight."
--Howard Dean, rallying thre troops with the damn truth, Attribution

"Be silent, Howard Dean, for you do not speak for us!"
--cowardly Democrats who live to please KKKarl Rove

---
Subject: Rick Santorum dead fetus story
Hey Bart,
Here's the link you wanted for the story about Rick Santorum's dead fetus
that he brought home to show off to the young-'uns, in the WaHoPo, no less.
Keep Swinging That Big Hammer Of Truth!
Bartfully Yours,
Stentor
Insane Senator warps the minds of his children
http://www.washingtonpost.com/ac2/wp-dyn/A61804-2005Apr17?language=printer
Excerpt:
Upon their son's death, Rick and Karen Santorum opted not to bring his body to a funeral home.
Instead, they bundled him in a blanket and drove him to Karen's parents' home in Pittsburgh.
There, they spent several hours kissing and cuddling Gabriel with his three siblings, ages 6,
four and 18 months They took photos, sang lullabies in his ear and held a private Mass.
"That's my little guy," Santorum says, pointing to the photo of the fetus, in which its tiny physique
is framed by his biological father's hand. The senator often speaks of his late son in the present tense.
It is a rare instance in which he talks softly.
He and Karen brought Gabriel's body home so their children could "absorb and understand that
they had a brother," Santorum says. "We wanted them to see that he was real," not an abstraction,
he says. Not a "fetus," either, as Rick and Karen were appalled to see him described -- "a 20-week
-old fetus" -- on a hospital form. They changed the form to read "20-week-old baby."

Uh, ...Senator?
A twenty week old "baby" would be a baby that lived sixty weeks after conception.
You can be as crazy as the Constitution will allow, but you can't hijack math.

---
---
Subject: $25 Donation
Bart, keep kicking ass!
Send me a "worst president ever" sticker.
Larry in Texas

Larry, for that much money, you get stickers and 6 CDs of BCR
and 690 days of membership so you can hear all 77 (by then) shows.


Get your BCR stickers and a WPE sticker
FREE with a donation.
Click Here to support bartcop.com with a sticker purchase.
Or snail mail to
bartcop.com
PO Box 54466
Tulsa, OK 74155
..

sign up for a year of BCR ($70) and get stickers and 3 BCR shows on CD. (send street address)


sign up for 3 BCR shows on CD ($24) and get stickers and 90 days free of BCR (send e-mail address)
---
---
Subject: You may know about tequila...
...but you don't know shit about golf.
You need to lay off the Tiger-bashing, dude.
He may not have won the Open, but he's still one of the best there is.
What is it about him that gets to you, anyway?
Doug
Anchorage, Alaska

"One of the best?"
I might agree with that.
My problem is with the "Tiger is God" crazies.
I'll bet God could beat the legendary Mike Campbell at golf.


Comments?


---
If your erection lasts longer than four hours,
see your doctor immediately.
At the Bixby Corn Festival, they have these giant hardwood-charcoal-burning grills
like the Boy Scouts use when they cook 200 hamburgers at a time.
They throw on about 100 still-in-the-husk ears of picked-five-minutes-ago sweet Bixby corn.
Once the corn is roasted to perfection, they pull one out, strip off the husk, then lower the ear
top-down into a gallon jug of liquid butter and then (Bart chokes up...) they hand it to you.

Maybe there is a God...

Comments?
---
Subject: Susan Estrich
Sue says, in her worthless defense of Fox News:
"Three times as many people watch Fox every day as watch CNN."
Well, this would explain why so much of the country is so fucking stupid.
Ryan in Tampa

---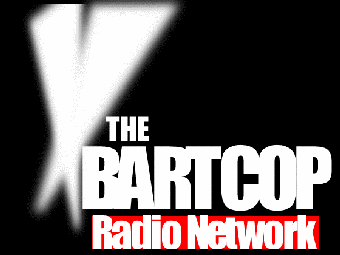 Get six CDs (the last three shows) delivered for just
Currently shipping...
BCR 74 2 cds
BCR 75 2 cds
BCR 76 2 cds
(Diamond Anniversary Show)
Click Here to get the latest BartCop Radio Shows
Click Here to subscribe and listen to all 76 shows

Fourth of July is just days away
What better way to honor the few freedoms we have left than...

---
Geragos vs Grace postponed because...
Missing White Scout Found Alive in Utah
God chooses to let this one live
Excerpt:
An 11-year-old boy who vanished from a Boy Scout camp was found alive and well
Tuesday after spending four days lost in the rugged Utah wilderness. The sheriff said Brennan
Hawkins was "a little dehydrated, a little weak, but other than that, he was in very good health."
The boy was found near Lily Lake, five miles from the camp where he was last seen Friday.
"It's a bona fide miracle" gushed Nancy Grace, who's paid to hype the drama, over and over again.

Five miles?
Hey kid, they would've found you Saturday if you had just sat down.
Didn't you want to be found?
I'm surprised Nancy Grace isn't calling him, "the runaway scout."

---
---
Chicago Pokerfest July 16, 2005
The cut off date for our room block at the Days Inn is this Saturday.
After that they will let any unreserved rooms go back to the public.
So if you're planning on playing some poker in Chicago on July 16th
make your reservation now and save the cab fare after the game.
..
Click Here for updates
Click Here to reserve your seat at Pokerfest Chicago 2005
---
Call the
...as heard in BCR Show 76
Put your 2-minute rant on the next radio show.
BCR is listened to by dozens, so get your comments out there.
918-748-1714
You have two minutes to record your message.
---
---
Subject: Santorum's baby
Hi there Bart,
Love the site, longtime reader, yadayada, but: Your statement
> "... Doing something as monstrously morbid as Rick Santorum bringing a dead baby to his house."
struck me as a really cheap shot. I read about the circumstances regarding the death of the baby
and I honestly couldn't find anything morbid about that. Death is a part of life, and when your baby dies,
there's no need to discard it like garbage in a hospital. When an older person dies, and the family wants
to have a wake at the house, is that morbid too?
That's why I think, as much as an asshat this Santorum guy is, your remark was out of line.
Regards,
Jerry

Jerry, I understand, but why is it that you and I even know about this incident?
How many reporters did Santorum call to be sure his constituents knew
he was going to do this to pander for more votes from the religiously insane?
Also, why couldn't the family say their goodbyes at the hospital?
You're assigning human motives to a Republican.
That's a mistake.

---
---
What's Next for Jennifer Aniston?
..

Is she damaged goods?
Excerpt:
Yes, we've all been there: Rejected. Dumped. And horribly humiliated.
And maybe that's why people are squirming at the sound of Jennifer's name.

---
---
Read the Previous Issue
It had everything.
Copyright © 2005, bartcop.com
---
Shopping online?
Use this portal
and they'll send bartcop.com
four cents from each dollar.
---

Computer Tyme Hosting is owned by Marc Perkel, who first put Bartcop on the Internet back in 1996 and keeps
Bartcop online today. Marc hosts several other political sites including American Politics Journal, Political Strikes,
Faux News Channel, and interesting sites like the Church of Reality - a religion based on believing in everything that is real.

Our motto for this year is - "No Anti-Bush Site Left Behind". So - if you have an anti-bush site and you are
choking on hosting fees or dealing with threats - let us know and we'll help keep you online.

We also have that strongest server side spam filtering on the planet.
Check out Marx Mail for info on how you can have a Spam Free Email Account.
Perkel's new Church
If it's Real - we believe in it!
Click here to join the Church of Reality mailing list.
---
This space left blank.
---
To hear the radio shows, you must have a login and password.
Click Here to subscribe and get your login and password.

BCR Show #76
Always listen to the BCR shows first
before you let your parents, co-workers or your kids hear it.

Click Here to listen to Part 1 of Show 76
Click Here to download Part 1 of Show 76

Click Here to listen to Part 2 of Show 76
Click Here to download Part 2 of Show 76

Click Here to listen to Part 3 of Show 76
Click Here to download Part 3 of Show 76

Click Here to listen to Part 4 of Show 76
Click Here to download Part 4 of Show 76

Click Here for the radio archives
..

Shirley Manson
Garbage and The Scorpions will play the Orange County
Fair Summer Concert Series on July 27
Tickets went on sale June 18.

Shrl, send me an e-mail address and I'll make you a BartCop Member - for free!
Catch you in Vegas at The Hard Rock -- this summer or fall?

---
bartcop.com and BartCop are trademarks of attempts at humor.