Quotes
"The typical flag waver these days is some asshole who wraps
himself in the flag trusting that it will protect him from criticism
and free him from the responsibility to do any critical thinking."
--"Flags" Attribution

---
War or Impeachment
by Robert Parry at consortiumnews.com
Excerpt:
In the days ahead, American politicians and pundits will talk a lot about "leveling" with
the people by speaking the hard truth about Iraq, meaning an admission that the war is
sure to rage for years and require an even heavier sacrifice in money and blood.
But this "leveling" will be just the latest spin. They won't tell you are these other hard truths:
First, whatever lies ahead in the Iraq War, the outcome is almost certain to be far worse
for Iraqis and Americans than it would have been if the U.S.-led invasion had never happened.
Despite the uplifting political rhetoric about democracy and peace, the smart money is on a
staggering death toll and a grisly civil war...
The second hard truth is that the American people have only two choices on what to do next:
they can continue to send their young soldiers into the Iraqi death trap for
at least the next several years and hope for the best, or they can build a
movement for impeaching George W. Bush and other administration officials
- and then try to make the best of a bad situation in Iraq.


Note: No doubt - consortiumnews.com is the most important site on the internet
---
---
No Monkey Bounce
Bush ratings unchanged by rehash speech
Excerpt:
Just one week ago, Bush's job approval stood at 44%÷but it has now slipped to 43%,
despite a speech intended to build support for his bloody quagmire. A new survey shows
no "bump," with approval of his job performance at 45% in the final day of polling.
Where voters live has some impact on their perceptions. Bush's rating remains strong in the
South, where 51% of the uneducated racists approve of his bloody war and genocide in Iraq.

In Oklahoma, Bush's war support is 57 percent.
The stupider the state, the higher Bush's support is.

---
---
Subject: Boondocks?
Bart,
Any idea why it's fall in Boondock-land?
I'm not sure when it started, but I noticed it last week - the kids
are wearing sweaters, the wind is blowing, and the leaves are falling
... but it's the first week of summer!
I'm sure Aaron is making a statement - I guess I'm being überblonde
and I'm not sure I get it.
Maybe it's that America's democracy is in the Autumn of it's lifetime?
just a thought
tally

---
Gannon Golf
Bush's gay hooker opens a golf course near DC.
---
Quotes
"If someone says I am a disloyal Republican because I am not
supporting my party, let them say it. War is bigger than politics."
--Sen. Chuck Hagel, (R-Diebold) Attribution

---
Outrage: Army promotes Torturers
Excerpt:
The Pentagon has promoted or nominated for promotion two senior Army officers who
oversaw interrogations during the height of the Abu Ghraib prisoner-abuse scandal.
The Army promoted Walter Wodjakowski to head Fort Benning, Ga. It has also nominated
Marc Warren, the top military lawyer in Baghdad at the time, to be a brigadier, general.
A third officer, Barbara Fast took command earlier this year of Fort Huachuca, Ariz.
An independent inquiry led by a James R. Schlesinger faulted all three officers for their actions
in Iraq, but a subsequent review by the Army's inspector general exonerated all of them.


You see how Bush works?
He says, "We don't allow torture because it's against the law," and then he winks.
Those who read the winks get promoted, even tho they were guilty of the crimes committed.
---
---
Subject: War of the Worlds
Bartcop,
I enjoyed your review of War of the Worlds. I agree with a lot of it.
When I saw it I kept thinking during all the bombardment scenes,
"This is what it felt like to be in Baghdad during the Shock and Awe bombing."
There is something chilling about overwhelming, implacable, pitiless technology.
Who would have thought we would become like gacky little alien slimeballs?
It also reminded me of the chimp when, after the technology surrounding
them crashed, what controlled the machines was a weak little sack of shit.
Michelle


---
Saw it on nobodycouldhavepredicted.blogspot.com
---
Sandra Day O'Conner
I sit hear steaming at the tributes to this lady.
Oh sure, she could've been worse - they say she even saved the day a few times by
being the "normal" conservative, but I heard a story about her that just pisses me off.
The bimbo on CNN says when O'Conner graduated law school, she was third in her class,
but when she tried to get a job as a lawyer, potential employers turned down again and again
"because she was a woman."
She eventually had to settle for a job as a law clerk, and then she clawed her way up the ladder
until Reagan's people picked her to be their token woman (sexism insurance) on the court.
Once she got in a position to make big changes, she did what Clarence "Slappy" Thomas did
and said, "Screw those behind me" and voted with the "Men only" party more often than not.
What causes people to vote against themselves and their kind?
O'Conner, a victim of neanderthal, pregnant-in-the-kitchen GOP thinking, chose to keep
the chains and shackles on women and minorities half the time, just like Slappy Thomas.
Once Slappy made it into whitey's BIG house, he decided that Affirmative Action was no
longer needed, even tho he benefitted from it. You'd think, that after being the victim of anti-female,
caveman bias, O'Conner might've taken steps to educate her fellow monkeys. but nooooooooooo.
And who among us will for get Election Day 2000, O'Conner was at some snippy, DC cocktail party,
and when she heard that Gore carried Florida, she blurted out, "Oh No!"
"Oh, no!?"
"Oh, no!?" that democracy worked?
"Oh, no!?" that the voters were a better judge of character than she was?
"Oh, no!?" that America would go the way the majority wanted?
Sandy soon found herself in a position to "fix" the voter error by rewarding the idiot son of her
friend (and CIA Head Spook) Herbert Herbert ...and then she took a giant dump on the Constitution.
The best thing I can say about Sandy was that her replacement will be more of a Nazi than she was.
Last thing?
I've learned over the years how to prevent being disappointed by the pink-tutu Democrats.
You see, if you expect the sacless and wimpy Democrats to roll over and play dead while the
Giggling Murderer can scratch their tummies and say, "Good boy, good boy,"
...it doesn't rip out your guts when Jon Stewart makes fun of them on his show, so much.

---
Subject: Podcast BCR
Bart,
You need to get on this podcasting bandwagon.
BCR is PERFECT for podcasting and will really expand your reach.
Give it a try - its on itunes.
mjz
ps If you use Apple, M$FT gets none of you $$$!

Dude, I thought Podcasting was when you downloaded am MP3
and listened to it on your little Pod machine, there.
If that's right, I've been Podcasting almost two years.
---
---
Tally's Tour de Lance
Stage 1
HERE WE GOOOO! Day 1 of 21 race days.
My name is Tally, and I am a Tour de Lance addict.
It's Stage 1 of Lance's Chasing 7ú as the Discovery Networks are calling it.....
And Lance's last professional race.

---
USA Today founder says "Bush lied"
Is this the first of hundreds to speak out?
Excerpt:
"I'm convinced the best way to support our troops in Iraq is to bring them home."
Neuharth declared. He also compared Bush to LBJ, saying both "lied to us in wartime.
The difference between Vietnam and Iraq is that there is no Cronkite to call Bush's bluff.
Without a strong, trusted, non-political voice, too many of us remain Bush-blinded.
Bush tried keeping the wool over our eyes again Tuesday by repeatedly tying Iraq to 9/11.
That charge is as phony as his claim that Saddam had WMDs."

---
---
Subject: McCartney
i know i'm walking into dangerous territory with these next few remarks,
but i can't help myself.
the beatle songs that i loathed were the mcCartney songs. yesterday, blackbird, etc.
and i hate wings. fuck wings.
he doesn't play rock music, he's plays swing music. he sucks.
the beatles: were lennon, harrison and ringo. in that order. period.
hell, harrison's music, after the beatles, was still legitimate.
sir paul can blow me.
did you see his reader's digest interview ? what a tool.
roger daltry expressed similar opinions about mcC on the stern show.
when howard was giving sir paul high praise, daltry said he didn't care for his stuff.
howard about choked.
i laughed my ass off.
PoppyW

I agree, but Paul deserves a pass because he's Paul McCartney.
I thought it was small of Paul to horn his way into this show, as if
he had a reputation for feeding the world before two months ago.
As they said in the USAhoToday, people like Geldof and Bono and Sting
.have taken shit from the vulgar Pigboys of the world for decades- just because
they weren't greedy-ass Republicans when it came to their time and money.
In that respect, Paul ought not to be insisted Bono hand him the opening mic,
BUT,
he is Paul McCartney perhaps the closest thing we have to a living Elvis.
BTW, this won't be a surprise by the time you read this, but rumor has it...
McCartney and Bono are supposed to open the show with "Sgt Peppers"
while wearing the Sgt.Peppers uniforms - that could suck or it could rule.

Sidebar:
As far as Paul's place in The Beatles?
He was the Zeppelin to Lennon's Led.
Paul was the "We can work it out" hippy optimist while
Lennon was all "Life is very short, and there's no tiiiiiime..."
Paul was writing silly love songs while Lennon was changing the world.
We wouldn't have had a Beatles without Paul, so he gets a pass from me,
...as long as we don't have to listen to "Freedom" ever again.

---
---
Bush reassures troops at Ft Bragg
Excerpt:
"Our objective is the independence of Iraq, and its freedom from attack.
We want only that the people of Iraq be allowed to guide their own country.
We will do everything necessary to reach that objective.
And we will do only what is absolutely necessary.
We do this to increase the confidence of the brave people of Iraq who have
bravely borne this brutal battle for so many years with so many casualties.
We will not be defeated.
We will not grow tired.
We will not withdraw,
either openly or under the cloak of a meaningless agreement.
We hope that peace will come swiftly.
But we must be prepared for a long continued conflict."

Wait, that's not Bush earlier this week - that's LBJ back in 1965
when there were only 400 dead soldiers - not the 58,000 we ended up with.
Should we make the same mistakes of the past?
Can a Monkey learn when the lessons is clear?
Will Bush change his mind before or after 58,000 men are dead?
With the networks, talk radio, the weekly news magazines and the cable whores
all cheering him on, slanting the news and covering his mistakes, I fear it may be after.

They're not going to leave a single barrel of Iraqi oil.
..
---
Quotes
"Someone in the White House revealed a CIA op's identity in order to discredit
a report that the White House's claim of Hussein getting yellow-flake was untrue.
People in high places in the administration commited a felony crime to protect a
key false premise that the White House used to mislead us to war. That, more than
anything else, represents for me the true malignance of this administration."
--Commander Jeff Huber, US Navy (Retired), Attribution

---
---
Subject: how Reagan won
Bart,
The contest was rigged, I tuned in just to see the top 5 and the celebrity panel
was Anthrax Coulter, Dennis Miller, and Randy Jackson (American Idol).
Once they announced who the finalists were,
I pretty much figured it was rigged to pick Reagan, so I turned the shit off.
I went to the website to find out if I was right and guess what....
son-of-a-bitch Reagan won
stevie g-

Damn, I had no idea they'd be that open about their vote-rigging.
I wonder who the greatest American would've been if the panel
had been John Waters, Bobcat Goldthwait and Al Franken?

---
---
Marty's Entertainment Page
Marty is on Erin Hart's show on KIRO
Sunday night, starting at 9pm Pacific
---
Nearly 9,000 U.S. troops dead?
There's a semi-easy way to find out
Is Bush "fixing" the number of U.S. military death count by redefining "death"?
The following article suggests, "DoD lists currently being very quietly circulated indicate
almost 9,000 [U.S. military] dead"; this far exceeds the "official" death count of 1,831.
How can this be? It's largely because "U.S. Military Personnel who died in German
hospitals or en route to German hospitals have not previously been counted."
In other words, it deoends on the meaning of the word, "dead."
WHAT YOU CAN DO:
1. If you know of anyone in Bush's quagmire, look for their names on the Pentagon death list at
www.tbrnews.org/Archives/list.htm.
If their names are not included, please send a report: tbrnews@hotmail.com and bartcop@bartcop.com
If their names are not included, forward this web page to veterans' groups, your congressmen, your senators,
and any other organization who might care that Bush is lying to steal more oil.

Let's impeach the bastard for lying 1800 men into their graves.

---
..

Click
Subject: Donation
Keep Hammerin' Bart. They're starting to crumble.
Let's all remember that when Karl mentions Sept. 11,
we need to bring up Aug. 6 and the PDP entitled,
"Bin Laden Determined to Strike Inside the United States."
When our conservative president read that, he went out to play golf.
Tom

Tom, thanks.

---
---
Subject: Good riddance, Judge O' Conner
Retiring Justice Sandra Day O'Connor will now get her wish that a GOP president
appoint her successor. She was at an election night party on November 7, 2000 when
she became "visibly upset" when network anchors awarded the state of Florida to Al Gore.
Her husband said she was upset because the couple wanted to retire and that his wife preferred
that a GOP President appoint her successor. Shortly thereafter she was the swing vote that
appointed Bush president after the people elected Al Gore. Now everyone in the world is paying
the price for her act of treason to the Constitution. I say good riddance to you.
Marc Perkel
San Francisco, CA.

---
Great Bible Quotes
"If any man come to me, and hate not his father, and mother, and wife,
and children, and brethren, and sisters, yea, and his own life also,
he cannot be my disciple."
-- (Luke 14:26)

---
---
Deep Throat was a mystery?
The was a very logical suspect, almost the favorite
A bigger mystery is how did John Melendez.get the Tonight Show job?
Seriously, that's one of the cushiest jobs in all of Hollywood.
Did John save Jay's life once, during a taping of the Stern show?
Somebody has to know something.
Shirley, you've heard some rumors, right?
Somebody has to know something.

---
Subject: Why?
Bart, why did Bush refuse to testify about 9-11 under oath?
Medtrans

Med, that's a great question.
The press is too afraid to ask why Bush refused,
The Democrats are too damn afraid to ask why Bush refused,
and the people who think Bush should testify don't have the money
or the power to force a question like that from a most likely suspect.

With Clinton, no man was above the law, not even when the GOP
had their Great Cock Hunt. The said the president must be
put under oath to be asked about his sex life.
With Bush, Godly Bush is above the law. We can't ask him
to testify over something as trivial as what he knew about 3,000 murders that
seems to be an oil deal gone bad, in a country Bush would immediately invade
and then build Unocal's Pipeline north to the Ruskis with all the oil.

Afghanistan plans gas pipeline
Excerpt:
Afghanistan hopes to strike a deal later this month (2002) to build a $2 Billion pipeline
through the country to take gas from energy-rich Turkmenistan to Pakistan and India.
Afghan interim ruler (CIA Spook and BFEE stooge) Hamid Karzai is to hold talks with
Pakistani and Turkmenistan later this month on Afghanistan's biggest foreign investment project.
The construction of the 850-kilometre pipeline had been previously discussed between
Afghanistan's former Taliban regime, US oil company Unocal and Bridas of Argentina.
The project was abandoned after the US launched missile attacks on Afghanistan in 1999.

Translation:
They couldn't have their precious pipeline wthout an oil man in the White House.
Have I connected every dot exactly? No chance.
But what pisses me off is that the "coincidences" all made billions of dollars for the BFEE and
their oil friends - at the cost of a billion a day and 1800 soldiers, and worse, Bush is consider
"too innocent" to be bothered about answering questions about what he knew..

..

"Dubya is too innocent to be bothered with 9-11 questions!"

..

"He sure is!"

---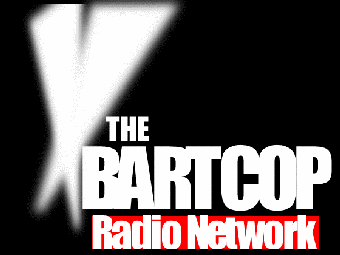 Get six CDs (the last three shows) delivered for just
Currently shipping...
BCR 75 2 cds
BCR 76 2 cds
BCR 77 2 cds
(Diamond Anniversary Show)
Click Here to get the latest BartCop Radio Shows
Click Here to subscribe and listen to all 77 shows

Fourth of July is just days away
What better way to honor the few freedoms we have left than...

---
Ann Coulter Jokes
What's the difference between Ann Coulter and a solar powered calculator?
Ann Coulter works in the dark.

---
Tally's Tour de Lance
Stage 2
5:30am - OLN preshow.
They keep running footage of Lance smoking past Jan Ullrich.
Awesome stuff.

---
Subject: Speilberg
Haven't seen War of the Worlds, yet but I don't understand your rant against Duel.
Yes, it was a weak movie but it was his first movie.
Are you as proud of your first radio show as you are of your last one?
Dave, Cincinnati

Dave, if they gave me $6M to do BCR #1,
it would've been one damn funny and professional-sounding show.
Sometimes I wonder what BCR would be if we had writers, a director, a producer,
the time to write, the time to develope ideas, time for do-overs, the cash flow to make
tiny problems go away and focus groups to clue us to what was working and what wasn't..
However, we have a terrific mix master in Sir Tommy Mack.
---
---
Bush and War Crimes
by Stella J
Excerpt:
I think you're talking about the International Criminal Court.
The ICC is a concerted effort by the international community to hold war criminals
accountable. Bush wouldn't sign up because he doesn't want Americans to be
subject to the same standards that apply to everyone else.
Incidentally, Human Rights Watch released a report a couple of months ago concluding
that Bush was deliberately holding up the UN resolutions on Darfur because he was
having an ego war with the UN and the ICC.

---
Subject: "So when the Sept 11 attacks occurred" ???
News Flash!
The "Sept. 11" Attacks were run by Darth Cheney and Gen. Meyers.
Planned by Rove and PNAC inc.
When will you people wake up?????
Until that truth is generally known nothing can or will be done to save this country!!!!!
We have got to start at the beginning, 4 (yes 4) stolen elections and the murder of 3000
Americans in New York, D.C., and Shanksville,Pa.
Focus, people, Focus.
Greycat

Wait, ...you mean Bush is lying to us?
What's next - Saddam wasn't responsible for 9-11
...and Bush lied to get us into an unjust war?

---
---
Subject: Where is the oil?
Bart,
The simple answer to this question is : in Iraq.
We own Iraq and everything in it as long as we stay,
and we will stay until the oil runs out; that's the plan.
The insurgency, which could not have succeded without the
cooperation of the BFEE ally SH and the calculated incompetence
of Rumsfield et al, is no mistake. The ongoing chaos, continually
provoked and at times orchestrated from DC, is simply a manufactured
reason to stay in Iraq. Everything is going according to the BFEE plan.
Why pump the oil out now when it is only worth 60$ a barrel?
It will be worth many times that before long.
Scott
San Jose

Scott - good point.
Oil will be at $100 before you know it.

---
The Senate Is Not a Rubber Stamp
by (Swear to Koresh) Pat Leahy, (D-Rubberstamp)
Dear Bart,
Sandra Day O'Connor has retired the Supreme Court.
This is a momentous time in our nation's history.
The next justice will have enormous influence.
Pat, I'm a busy man - can you get to the point?

We cannot allow a judicial activist judge.
The Supreme Court is no place for fringe judges.
And the Senate is not a rubber stamp.
Really?
Then explain how Bush has never been told "No."
He's stacked our government with felons and thugs
You've been nothing but a rubberstamp.

The President has chosen a path of confrontation.
Well of course he has - why shouldn't he?
When he confronts, you wimper, you apologize and then you back down.
Of course he's going to bark orders at you pitiful crybabies.

America doesn't want a rubber stamp.
Neither do the Democrats.

democracyforamerica.com/norubberstamps
Thank you,
Senator Patrick Leahy
Ranking Rubber Stamp in the Democratic Party.

Pat, start looking for a job..
We can't do this with you in the way.

---
Rove, arrested for being a heartless dick
---
Garbage to play Live8 Edinburgh
Will it be on TV?
If so, will MTV give them
3 whole minutes without interrupting?
...sons of bitches
---
The Live8 Disaster
Let's look for the silver lining, first.
The opening 3 minutes was great, but Sgt Peppers is a damn short song.
Madonna hit a home run.
If shall had called me and said,
"Bart, there's time for two songs, which two do you think I should do?"
I would've told her, "Do Like a Prayer, and wear white, and try to find
some Africa choir to sign behind you, and then close with Ray of Light."
Other highlights included Green Day doing Freddie's We Are the Champions.
We saw The Who play two of their C.S.I. theme songs.
From there, things started to suck real bad.
From a TV concert point-of-view, it was a disaster.
First, which idiot decided it would be great to have 150 bands?
Have you ever seen a Kentucky Derby w/ 150 horses?
Could you eat a pizza with 150 kinds of cheese?
What if you wolfed down 150 beers?
How is sex 150 times in 8 hours?
I guess it sounded cute on the commercials, "150 bands,"
but 15 bands would have been a whole lot better.
It was a traffic disaster the networks couldn't handle.
To make things worse, truns out I wasn't cynical enough about how bad
the greedy bastards at MTV would mangle once-in-a-lifetime performances.
OK, we understand you have to run 45 minutes of commercials every hour, after all,
the day was about feeding the starving children so what could be more important than
the new calling plan from Vonage?
What's the one thing I hate worse that being a greedy crook?
Being a stupid, greedy crook.
I would have rather watched MTV run 45 minutes of commercials between Money
and Wish You Were Here. But nooooooooooooooooooooooooooooooooooo.
Not the stupid, greedy bastards at MTV.
The guitar solo to Comfortably Numb is one of the highlights of serious hard rock
and we haven't hear these guys play together in 24 years, so what do they do?
As the guitar solo is starting, the MTV producer pulls away from this historic moment
to have these Britney-wannabe DJs remind us, "Yes, you're watching Pink Floyd,"
and then they proceeded to tell us their innermost thoughts about their day.
...while the real Pink Floyd was playing Comfortably f-ing Numb.
Waaaaaaaaaaaaaaay back on June 1, I wondered if I was being cynical when I wrote:
> And watch for the idiot networks suits to screw up the broadcast.
> They'll go to a Maxi-Pad commercial during the best parts of the best songs.
> The only one I'd trust to broadcast this is HBO.
> Could we get that lucky?
> Or will the whore networks take their chainsaws to it?

I didn't really expect them to cut the millipede into all 1,000 pieces - but they did.
If you take away all the smoke and look at what they actually presented, this was
nothing more than a multi-billion dollar, salary-free commercial for AOL.com
They said the shows would be available in their entirety on AOL for a week or so.
So the whole day was,
"If you like the snippets of what you see,
join AOL and for $20 a month, we'll allow you
to see that which we promised you for free."

Is this Bono's fault?
You'd think not, or his band would've gotten at least as much TV time as Jay-Z.
Were Bono and Geldof victims of trickery or betrayal?
Not sure, but if it wasn't for Bush's bloody double-quagmire,
this disaster might've ended up being disappointment of of the year.

---
Chicago Pokerfest July 16, 2005
Just 12 days away...11 until the Roof Party!
..
Click Here for updates
Click Here to reserve your seat at Pokerfest Chicago 2005
---
Call the
...as heard in BCR Show 77
Put your 2-minute rant on the next radio show.
BCR is listened to by dozens, so get your comments out there.
918-748-1714
You have two minutes to record your message.
---
..
Subject: I have a joke for you
A first grade teacher explains to her class that she is a liberal Democrat.
She asks her students to raise their hands if they were liberal Democrats too.
Not really knowing what a liberal Democrat was, but wanting to be like their teacher,
their hands flew up into the air. There was, however, one exception. A girl named Lucy
had not gone along with the crowd. The teacher asks her why she has decided to be different.'
"Because I'm not a liberal Democrat," said Lucy
''Then, what are you?'' asks the teacher.
"Why I'm a proud conservative Republican," boasts the little girl.
The teacher, a little perturbed and her face slightly red, asked Lucy
why she considered herself a conservative Republican. Lucy replied,
"Because I was brought up to hate niggers, faggots and foreigners."
Wunder

Dude, I don't get it.
---
---
Was Christ Fictional?
Excerpt:
And in the case of Jesus Christ, where virtually every detail of the story fits the mythic hero
archetype, with nothing left over, no "secular," biographical data, so to speak, it becomes
arbitrary to assert that there must have been a historical figure lying back of the myth.
There may have been, but it can no longer be considered particularly probable, and that's
all the historian can deal with: probabilities.
There may have been an original King Arthur, but there is no particular reason to think so.
There may have been a historical Jesus of Nazareth, too, but, unlike most of my colleagues
in the Jesus Seminar, I don't think we can simply assume there was.


---
---
---
Katie Holmes never allowed to be alone
..

Hasn't slept in weeks?
Since Katie Holmes hooked up with Tom Cruise and the Scientologists, she's not allowed
to be alone - ever. When Holmes accompanied Cruise to a recent taping of "The View,"
eyebrows were raised when she wasn't allowed to go to the bathroom alone.
At one point, Cruise asked where the bathroom was and "took Katie with him into the
men's room," an insider says. Later, when Holmes needed to go, "three Scientologists
followed her in."
A rep for "The View" said, "We don't follow guests to the bathroom."
Some were also concerned because Holmes "looks like she hasn't slept in weeks."

They say it's from Page Six, I didn't see it, myself.

---
Read the Previous Issue
It had everything.
Copyright © 2005, bartcop.com
---
Shopping online?
Use this portal
and they'll send bartcop.com
four cents from each dollar.
---

Computer Tyme Hosting is owned by Marc Perkel, who first put Bartcop on the Internet back in 1996 and keeps
Bartcop online today. Marc hosts several other political sites including American Politics Journal, Political Strikes,
Faux News Channel, and interesting sites like the Church of Reality - a religion based on believing in everything that is real.

Our motto for this year is - "No Anti-Bush Site Left Behind". So - if you have an anti-bush site and you are
choking on hosting fees or dealing with threats - let us know and we'll help keep you online.

We also have that strongest server side spam filtering on the planet.
Check out Marx Mail for info on how you can have a Spam Free Email Account.
Perkel's new Church
If it's Real - we believe in it!
Click here to join the Church of Reality mailing list.
---
This space left blank.
---
To hear the radio shows, you must have a login and password.
Click Here to subscribe and get your login and password.

BCR Show #77
Always listen to the BCR shows first
before you let your parents, co-workers or your kids hear it.

Click Here to listen to Part 1 of Show 77
Click Here to download Part 1 of Show 77

Click Here to listen to Part 2 of Show 77
Click Here to download Part 2 of Show 77

Click Here to listen to Part 3 of Show 77
Click Here to download Part 3 of Show 77

Click Here to listento Part 4 of Show 77
Click Here to download Part 4 of Show 77

Click Here for the radio archives
..

Shirley Manson
Garbage will play the Orange County Fair Summer Concert Series on July 27
Tickets on sale now - unless they've sold out.

Shrl, send me an e-mail address and I'll make you a BartCop Member - for free!
Catch you in Vegas at The Hard Rock -- this fall?

---
bartcop.com and BartCop are trademarks of attempts at humor.